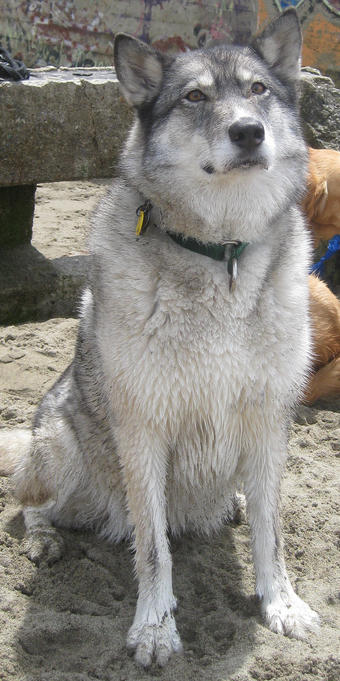 Vixen was my alpha girl. She was so alpha she didn't just lift her leg to pee, she lifted both back legs at the same time to pee.
She was a confident and happy girl. She passed on 9/7/2013 after about 4 days of steadily declining health. It was pretty sudden. She had developed Cushings disease a year earlier, and had lost all the fur in her tail and had a few bald spots on her back and around her neck, but she was still beautiful. Then one afternoon she got into the food store and gorged herself on the kibble, she went down hill from there.
She appeared to have developed Diabetes and couldn't walk very well and seemed to be in great pain. The vets were unable to explain why, and her blood work was all over the place. Finally I took her back the emergency vet and they did an ultra sound and found she had fluid in her lungs and several masses on her spleen and liver. He suggested that maybe these masses were the actual reason for the Cushings and all the other complications, even though they did not show up on the ultra sound a year earlier. The gorging probably just accelerated the problems and her system could not cope with it.
The E vet was pretty certain they would not be able to stabilize her given the Cushings and diabetes complications. She was in obvious distress, and I helped her pass over the rainbow bridge with her head in my lap scratching the top of her head as she used to love.
I am devastated, she was only 10 years old, and it happened all so suddenly.
I love you my little Vixie and will miss you terribly.
Love Dad.
Continue Reading…
Posted by wolfmanjm on Sep 08, 2013